What is In an Arizona Crash Report?
If you are involved in a collision in Arizona,  whether it is serious or minor, make sure to contact the police and have an accident report created right away. Law enforcement must prepare a written accident report if the crash resulted in more than $2,000 in property damage, injury, death, or they issued a citation. They will file this report with the agency in their jurisdiction and submit a copy to the Arizona Department of Transportation within 24 hours of the accident.
You should obtain a copy of your report after the crash. Whether you need to file an insurance claim or lawsuit, it will be a vital document when dealing with your own insurance company or the other party's insurer.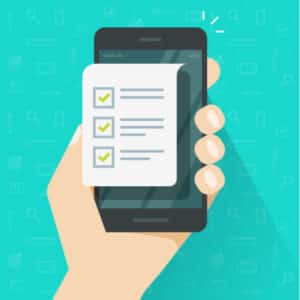 What is an accident report? 
An Arizona accident report contains details relevant to the collision. The law enforcement official is an impartial party who focuses on the facts and completes each section of the report accurately. To do so, they may:
Take photos of the accident scene
Speak to witnesses about what they saw and write down their names and phone numbers
Thoroughly inspect vehicle and property damage
Obtain auto insurance information from all parties involved
Attempt to recreate the incident for a detailed description and diagram of the crash
Talk to all drivers involved to determine who was at fault
Take note of the weather, light conditions, roadway surface, surrounding traffic control devices, and other factors that could contribute to an accident
Upon completion of the investigation, the officer will prepare an official crash report. They will file it with their specific agency and send a copy to the Department of Transportation. For example, if a state trooper investigated an accident on the interstate, they would file their report with the Department Records Unit at the Arizona Department of Public Safety. An officer who investigated a collision on a town, city, or county road would file the report with their local police department or sheriff's office.
Form 01-2704A R/00 is the standard form law enforcement will use when they investigate an accident. The different sections are discussed in the next section. 
Elements of an Accident Report
Identification and General Information
This section involves the following basic details that an officer must include on the report when they initially get to the scene:
Date and time the crash occurred
NCIC number associated with the agency completing the form
Police officer's ID number
Agency report number and the total number of sheets in the report
Total number of traffic units in the accident (pedestrians, riders on animals, vehicles)
Total number of people injured and classification of the injuries
Number of fatalities
Whether estimated property damage is above $2,000
Location of the accident, including street name, city or town, county, whether it happened at an intersection, and whether it happened inside or outside city limits
Drivers
This section includes the following detailed information about all drivers, pedestrians, and pedal cyclists involved in the accident:
Full name
Sex
Date of birth
Address
Telephone number
Driver's license number, state, and class
Severity of injury
Vehicles:
This section is for all vehicles involved in the crash:
License plate number
State of registration and expiration year
Owner's full name and street address
Body style
Year, make, model, and color
VIN
Whether safety restraints were used
If airbag deployed
Name of the individual or company that removed the vehicle and where it was taken
Name of individual who ordered the removal
Estimated speed before events leading to crash, and the posted speed limit
Auto insurance company, telephone number, and policy number
Passengers:
This section includes the occupants of each vehicle other than the driver:
Full name
Age
Sex
Severity of injury
Address
Seat position
Whether safety restraints were used
Other Property Damage:
This section includes information about damaged property other than the vehicles that were involved in the collision. If known, the officer will write in the name, address, and phone number of the owner.
Witness Information:
This section is for individuals who witnessed the crash:
Full name
Address
Telephone number
Age
Investigation:
This section is where the official will indicate the following information about their investigation of the accident scene:
Whether photos were taken
Name, agency, and ID number of the person taking photos
Date and start time of the investigation
If investigation took place at the scene
Name, ID number, and signature of the officer writing the report
Month, day, and year of the completed report
Damage:
This section describes the crash and damage to each vehicle:
If any vehicle went off the road before the accident
Manner of collision (i.e., single-vehicle, sideswipe, rear-end, etc.)
Light condition
Weather conditions
Type of road surface
Whether the accident was in an intersection or associated with an intersection
Special location indicated, such as crosswalk or bridge
Unusual road conditions, such as construction or standing water
Traffic control devices in the area
Road characteristics (i.e., striped centerline, raised median, concrete barrier, etc.)
Road grade
Road surface condition
If there were special conditions that affected the driver, such as physical impairment or driving under the influence
Violations made by any individual involved in the crash, such as speeding, running a stop sign, or failure to yield
Condition of the vehicle prior to the incident
Actions of each person before the accident or that directly affected the accident
Whether either driver's vision was obscured by an object
Compass direction each vehicle was traveling just before the collision
Diagram:
This section is for the officer to recreate the accident with a diagram, which may include the following:
Location of each vehicle and travel direction prior to the crash
Position of vehicles at impact
Where each vehicle ended up after the collision
Features, such as traffic signals, fixed objects, and signs
If any car rolled over and how many times
Features of the intersection
Lane markings and street width
Pedestrians, vehicles, and pedal cyclists not directly involved
Accident measurements
If any vehicle skidded from an evasive move or braking before the accident
Issued citations
Additional information the officer believes is relevant
Description of the Crash:
This section is where the law enforcement official can describe the incident in detail, including:
What each person was doing
The direction each vehicle was traveling
Part of the vehicle where the impact occurred
Each vehicle's resting position after the accident
Which emergency service transported injured individuals, and to what medical center
Officer's opinion of who might be at fault
Fatal Supplement:
This is a separate form the investigating officer must complete if there were any fatalities. There must be a form for each person that died.
Supplemental Bus/Truck Accident:
This is another separate form for accidents involving a commercial truck or bus.
If you've been involved in a collision anywhere in Arizona, don't hesitate to get your official state-certified copy of your accident report. As you can see, this document will be a crucial item to have as you navigate the steps after a crash. Whether you're dealing with insurance companies, or if you need to take legal action to hold the other driver accountable for their recklessness, your crash report is the FIRST thing you should get. 
Order your official Arizona crash report for FREE now!